Family
The museum offers free family activities so that children can also benefit from the collections.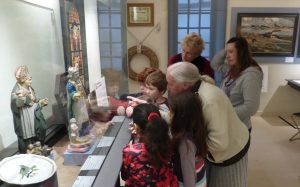 From the age of seven, children can follow the visit with an activity booklet. This enables them to discover the collections step-by-step through varied activities accompanied by a small character.
Each temporary exhibition offers activities, objects to handle and touchscreens for a fun visit that everyone can access.
For younger children, the collections' major works can be discovered in a fun way through puzzles.
This means that everyone can make the most of the museum at their own pace.
Accessible to everyone
Since 2012, the museum has been working to make its collections accessible to everyone. Enjoying the convenience of a lift, all areas of the museum are accessible to all members of the public. A Braille document is available at reception giving information about the permanent collections.
In English
Leaflets providing an English explanation of the most important points of the "Loire" and "Fine Arts" collections are available to the public in the museum's rooms.